The first step on the path to digital transformation is becoming aware of your organization's current state. Knowing where you are and how things are in comparison to where you want to be and how things should be, is crucial for any planning. Unfortunately, most organizations do not have a good understanding of their current state, they do not have the necessary insights to identify processes that give them a competitive advantage or disadvantage.
Process Inventory
Organizations are made up of processes. A process inventory is a simple yet great tool that provides you with a snapshot of all those processes and activities in your organization. Infographic in Figure 1 summarizes key benefits of creating a process inventory.
You can use different tools to build a process inventory, but we are going to look at the two main ones. Both of these tools can be used independently or in conjunction with each other.
Customer Journey Maps
Value Chain
Figure 1 – Advantage of a Process Inventory
Customer Journey Maps
A customer journey map is a very simple idea: a diagram that illustrates the steps your customer(s) go through in engaging with your company, whether it be a product, an online experience, retail experience, or a service, or any combination. [1]
A customer journey map is a simple tool that allows you to visualize touch points between your customer(s) and your organization. It gives you an outside-in view of your organizational processes. This tool puts a customer front and center, which helps you create empathy for your customer. It provides you with insights into all the activities your customers perform, their motivations, questions, and barriers at each stage. In addition, not only does this tool identify all the organizational processes a customer interacts with, but it also captures their positive and negative experiences as they interact with those processes.
Customer journey maps can be end-to-end or focus on a single area. There is no one standard version of the diagram, normally it would be some sort of infographic with a timeline showing user's experience. Figure 4 below shows a high-level customer journey map for a bank. [2]
Whichever format you choose, the goal, of course, is similar; learn about customer experience and find out what can be done to improve that. Just the act of creating a customer journey map helps in understanding the customer in a better way. Once you have created a customer journey map, identifying and prioritizing processes that can improve customer experience becomes much easier.

Figure 2 – Customer Journey Map for a Bank
Value Chain
Value Chain analysis was first discussed by Michael Porter in his 1985 book "Competitive Advantage". Value Chain is a strategy tool that helps you visualize the process view of an organization [3]. It identifies all the primary and supporting processes involved in creating value for a customer. This gives you an inside-out view of your processes. The analysis reveals processes and activities where the competitive advantages and disadvantages of an organization are.
As part of the analysis, you look at the organization from the top down, create an inventory and models of all the processes, score them for the value they generate and identify all opportunities for automation. This exercise helps you understand how things are actually being done right now, what is generating value, what processes need improvements and of course what processes or activities can be automated. The value score can also help in prioritizing the work that needs to be done first.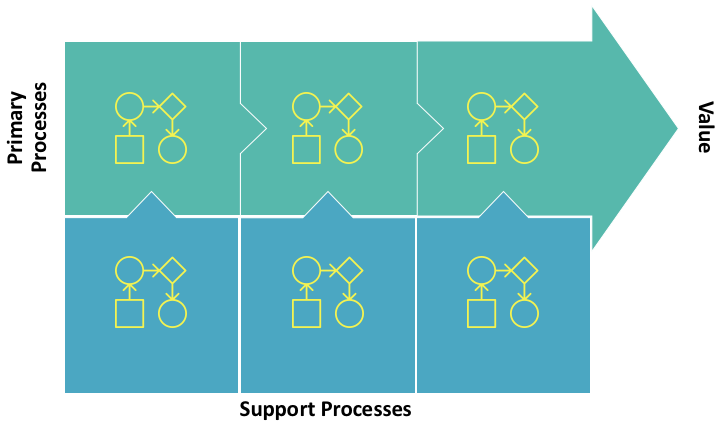 Figure 3 – Value Chain Analysis
References
Using Customer Journey Maps to Improve Customer Experience – Harvard Business Review
The Retail Bank's One-Stop Guide to Journey Mapping – Tara Litchfield
Value Chain Analysis

– Strategic Management Insight