Project-based teams have a plethora of tools to perform the cost-benefit analysis and make build-versus-buy decisions but lack tools to measure value that an application is producing after release.
Product-based companies, on the other hand, have to stay focused even after going live, so project-based teams can learn a few lessons from product-based teams in that regard. I came across this simple tool a while ago.
The three-dimensional chart shown in the figure below uses three simple metrics cost, usage, and adoption to evaluate the value of an application. It helps identify what area a team needs to focus on next in order to improve the value of an application.
Note: You can add more dimensions as well, whatever helps you calculate the value.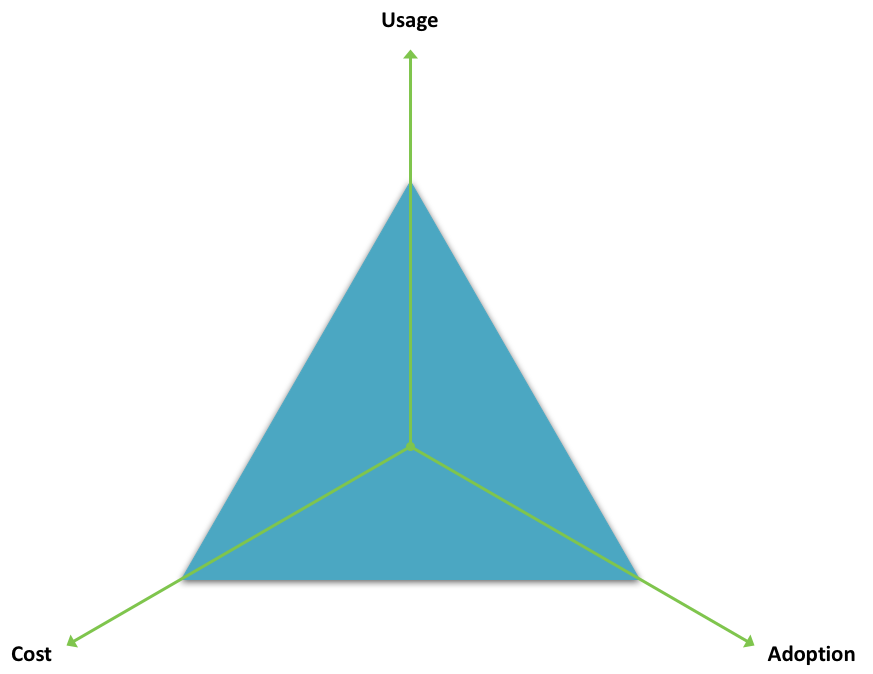 For example, if an application launched for a 100 people department is being extensively used but only by 5 people, then usage might be high but adoption is low. So just by doing this simple analysis, you can dig deeper and try to answer the question why adoption is low, it might be because an interface is not very user-friendly or there was not enough marketing done internally and as a result, people were simply unaware of the application etc.
Similarly as shown in the figure below, after spending huge sums of money only a handful of users have adopted the application and use it maybe once a week, then obviously money was spent on unnecessary features that do not really deliver value.